Advance knowledge of abnormal component wear means zero unplanned outages, lost revenue or secondary damage.
Bearing damage is the leading cause of unplanned events. MetalSCAN offers operators of engines, turbines, and gearboxes real-time data on critical component condition and equipment health by detecting and analyzing 100% of wear debris in oil flow.
MetalSCAN technology enables operators to maximize equipment availability, reduce risk, carry out predictive maintenance, extend overhaul intervals, predict component remaining life, and avoid secondary damage and costly equipment failures.
MetalSCAN enables real-time prognostics in condition-based maintenance (CBM) for critical oil-wetted components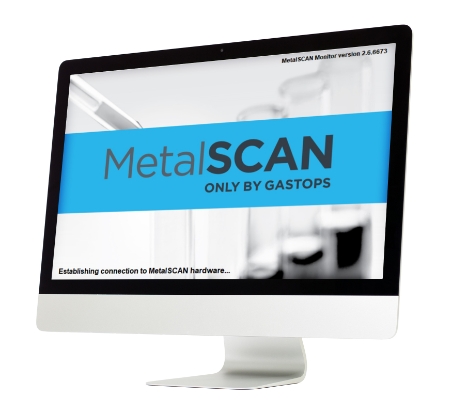 Improved reliability
Eliminate unplanned events & catastrophic failures
Improved availability and uptime
Eliminate false and nuisance alarms
Proactively plan maintenance for minimal disruptions
Improve fault isolation, reduce troubleshooting times
Reduced maintenance and support costs
Avoid secondary damage
Plan maintenance
Extend scheduled inspections & maintenance intervals (on-condition)
Reduction/elimination of routine oil sampling with enabling technology
How MetalSCAN Works
More than a particle counter, MetalSCAN is an online oil debris sensor that detects 100% of metal particles present in oil flow and compares damage progression to our proprietary statistical models. This wear debris sensor detects failure modes for critical components: bearings, gears, seals, and blades and identifies surface fatigue damage, build debris, and seal damage. Using this information, MetalSCAN provides real-time indication of severity and progression of damage. This oil debris sensor gives the earliest advance warning that equipment will require maintenance and estimates Remaining Useful Life (RUL).
---
MetalSCAN for Aerospace
Trusted. Accurate. Intelligent insight.
MetalSCAN is a real-time, online, full-flow oil debris monitoring system which detects the earliest onset of damage to critical oil-wetted components in military and commercial aircraft.
MetalSCAN is the alternative to notoriously unreliable chip detection systems which often fail to detect in-flight failures, unsafe operations, and mission abort events. Gastops originally developed MetalSCAN for the F-22 Advanced Tactical Fighter engine. Today, MetalSCAN is available for a wide range of military and commercial aircraft applications.
Real-time Prognostics
Detect the onset of damage
Measure health status
Avoid in-flight failures and false indications
Proactive Detection of Service Needs
Reduce maintenance and support costs
Maximize mission readiness
Improve reliability
Featured installations:
Commercial Aviation:
Every Pratt & Whitney GTF commercial engine, including those flying on the:

Airbus A320neo / PW1100G-JM
Airbus A220 / PW1500G
Embraer E-Jet 170 / PW1700G
Embraer E-Jet 190 / PW1900G
Defence:
The world's most advanced fighter jets including the:

Lockheed Martin F-22 Raptor / PWF119
Lockheed Martin F-35 Lightning / PWF135
Lockheed Martin F-35 Lightning / 29,000HP gearbox on RR LiftSystem®
Eurofighter Typhoon / EJ200
CONTACT US TO LEARN MORE

---
---
MetalSCAN for Wind Turbines
Reduce operating costs of wind energy production with critical component intelligence.
MetalSCAN technology empowers wind turbine operators to effectively manage gearbox health issues using oil debris monitoring.
Designed specifically for wind turbine platforms, the MetalSCAN MS3500 oil debris monitoring system provides continuous monitoring of the gearbox.
MetalSCAN is a full-flow, non-obstructive, online debris detection system installed in the gearbox lubrication system. It detects the onset of surface fatigue of bearings and gears and tracks the progressive deterioration of the damage in real time, providing a continuous measure of gearbox condition.
Featured installations:
Wind Energy:
Bill of Materials on all Vestas, Siemens Gamesa, GE and Nordex turbines
A Standard Option on all new Vestas (non EnVentusTM), Siemens Gamesa, Nordex Group and GE wind turbines
Major gearbox manufacturers including ZF, Winergy, Bosch Rexroth, Eickhoff, NGC and Moventas
Turbine owners/operators including ENGIE, Orsted, Vattenfall, Statkraft, E.ON, EDP Renewables, Brookfield, Boralex, RWE AG and Iberdrola
CONTACT US TO LEARN MORE

---
---
MetalSCAN for Power, Compression and Marine Propulsion
Real-time damage detection. Anytime. Anywhere.
MetalSCAN MS4000/MS4110 oil debris monitoring systems provide condition monitoring in the energy, industrial, and marine industries. They detect and analyze metallic particles generated from rotating equipment due to bearing and gear wear.
MetalSCAN MS4000/MS4110 are online oil debris monitoring systems designed to detect the passage of metallic particles in fluid lines. The systems, which can be used in any pipe flow situation, are particularly suited to equipment applications where detecting metallic debris in the lubrication oil can provide early indication of component damage.
MetalSCAN technology enables the operator to plan maintenance actions, thus reducing lost revenue and repair costs. It also optimizes equipment availability and proactive planning for required maintenance.
Features
100% detection of ferromagnetic (Fe) and non-ferromagnetic (NFe) metal particles
Easy to install
Easy to interpret
Rugged, solid-state with no moving parts
Full function continuous Built-in-Test (BIT)
Proven reliability in harsh machinery, high temperature and hazardous environments
Featured installations:
Gas Turbines:
GE Energy LM9000, LM6000, LM5000, LM2500, LM1600 and LMS100, both new and in the aftermarket for power generation, compression and Naval Marine applications
Mitsubishi Power Aero (Pratt & Whitney) FT4, FT8 and FT4000 both new and in the aftermarket for power generation and Naval Marine applications
Siemens Energy/Rolls Royce MT Avon, SGT-A05 (501K), Spey, SGT-A35 (RB211) and SGT-A65 (Trent), both new and in the aftermarket for power generation, compression and Naval Marine applications
Azimuth Thruster/PODS:
Monitoring all the Azimuth PODS designed and manufactured by ABB and Kongsberg Maritime that are propelling the world's largest cruise ships, owned and operated by Royal Caribbean, Celebrity, Carnival, Norwegian and Star Cruise Lines
Industrial Gearboxes:
Major industrial users include petrochemical companies such as SABIC and LANXESS, steel companies such as ArcelorMittal, and component manufacturers such as Bosch and Zanini Renk
CONTACT US TO LEARN MORE

---
---
"In 13 years at this job, my proudest achievement is developing the ODM trending limits after analyzing data from a failure. It was fielded along with corresponding changes for chip collector inspection limits in 2009, and we haven't missed a detectable failure since then. We caught over 30, and each would have been an in-flight shutdown."
Customer Support Engineer, Fault Isolation Subject Matter Expert,
Military Customer Support & Services, Aircraft Engine Manufacturer
Discover
the future of equipment condition intelligence.
Talk to one
of our experts today.